Discover more from Venture Desktop by Brett Bivens
An ongoing exploration of the ideas, companies, and people shaping the New Industrial deployment age.
Over 3,000 subscribers
🖥 Trend Following in Consumer Wellness
Venture Desktop — Episode 4
Hey from Paris and welcome back to Venture Desktop! 👋
Over the next couple weeks, I'll be in Las Vegas (for CES) and then Chicago…if you are in either place, it would be great to get together!
This week we are diving into Consumer Wellness. It is a market where I've had the opportunity to invest in and work with some very exciting companies and an area of personal passion.
The development of this market over the next decade will have a profound impact on the global economy and more narrowly on the way many early stage companies are built and funded.
It is also such a dynamic, organic space crossing so many different industries and demographic boundaries that it is, in fact, almost boundless — so trying to understand it from a top down perspective with too many preconceived categorizations is nearly impossible.
Instead, I have always taken more of a bottoms us "trend following" approach…deeply understanding a few key catalysts (people, behaviors, companies, etc.) that are driving an outsize change around how, where, and why consumers are building wellness-centered lifestyles and hoping that those guide me towards interesting people to work with and companies to invest in.
This is Part I, focused on two major trends:
Fitness tech eating digital healthcare

Opportunities, challenges, and a long term outlook for the connected, at-home fitness market (Peloton, Tonal, Mirror, etc.)
I will continue with Part 2 next week which will look more toward the broader wellness-driven consumer market to dive into wellness centric travel, startup internationalization, the future of wellness work, and what company creation opportunities there are around mass market wellness education.
Enjoy and please come find me on Twitter to discuss the episode!
---
As always, I want to make sure you can check out Venture Desktop however is most convenient.
So something new this week…I set up a "Mission Control" where you will find audio, video, the accompanying essay, and all of the links I shared throughout the episode. You can find that here. Over the next few days, I'll also be adding different clips and highlights from the episode to this page.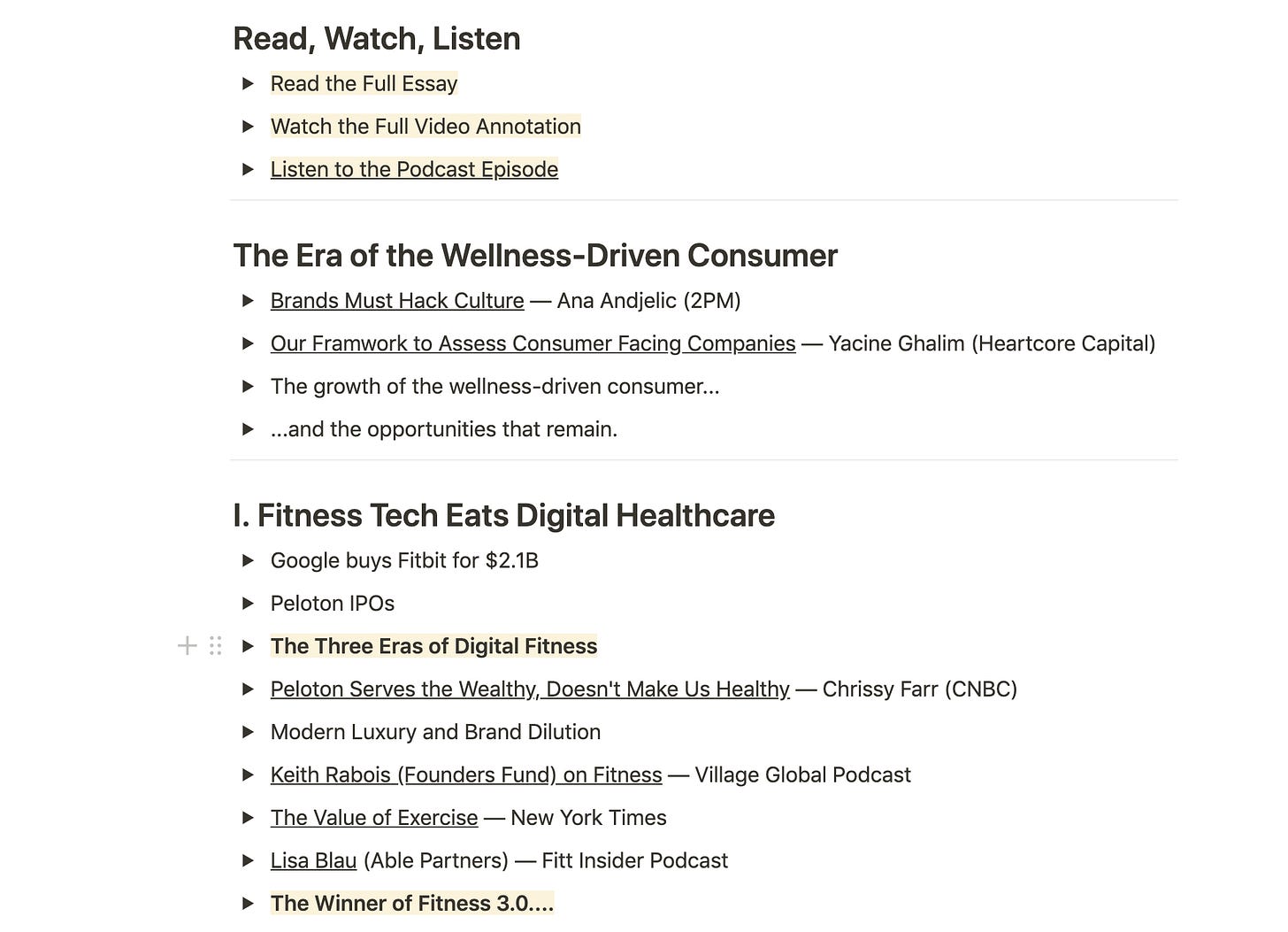 If you enjoyed the episode, I'd be very grateful if you passed it along to colleagues and friends. You can do that here 👇
---