The At Home Fitness Roll-Up
In an email exchange the other day, a friend and fellow investor in early stage fitness and sports companies made the comment that the at-home fitness market may be hitting the peak of its "Uber for X" curve — meaning, tons of company formation and an (over)abundance of capital riding a wave of enthusiasm because of the success of one or two key companies (in the case of fitness, Peloton).
As with the Uber for X market trajectory, the idea is that derivative ideas will either fail to take off (Uber for Car Washes…), or if they are attractive enough, be preemptively eaten up by the bigger players (like on demand food delivery and UberEats, for example).
With the news of Tonal's Series C funding round *, led by L Catterton, we are starting to see early indications of another parallel between the respective markets pioneered by Uber and Peloton: The Roll-Up.
---
Roll-ups — or what Bain has called the "Buy and Build" strategy — have become very prominent in traditional private equity and have been employed to extreme success in the SaaS world by firms like Vista and Constellation Software.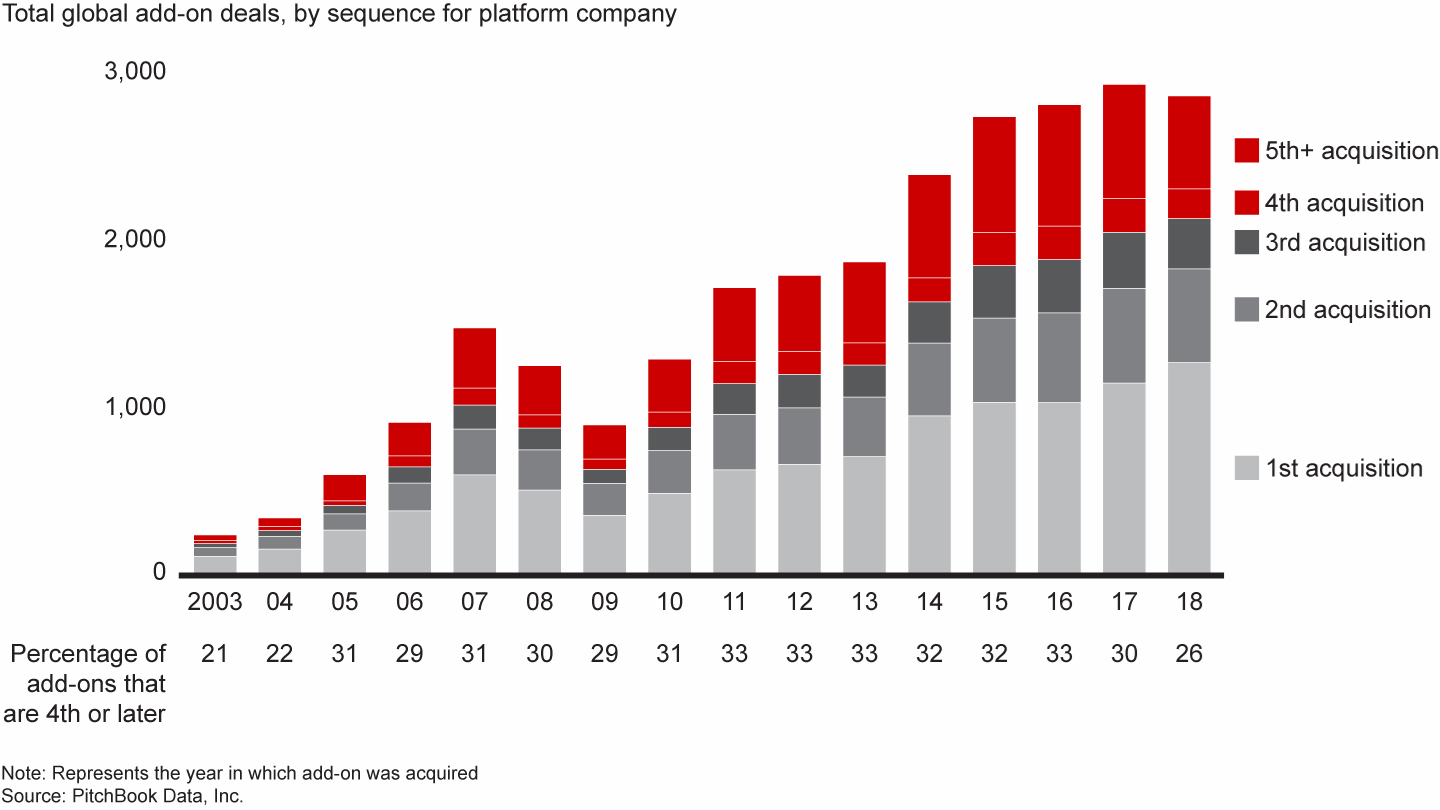 Image via Bain's 2019 Private Equity Report
The strategy tends to work well when the group of companies being brought together are similar enough that they can benefit from shared, scaled out fixed "infrastructure" across core business functions but are different enough (end customer demographics, positioning/brand, geography, etc.) that they don't encroach too aggressively on one another.
Recently, the strategy has made its way into the boutique fitness market thanks to Xponential Fitness and, per Heartcore's Max Niederhofer could have a place in the DTC / DNVB world as well.
Anthony Geisler, CEO of Xponential Fitness, recently explained how this plays itself out in boutique fitness:
The model used to maximise the potential of each brand is actually a very simple one, Geisler maintains. "There are three simple components to all these businesses: the programming, the marketing and advertising, and the sales ‒ closing ratios, sales platforms, sales training. Once those three components are optimised, all we do is continue to deliver a great product and continue to charge for that product. That's really the business we're in across all modalities."
The intersection of these two areas — boutique fitness and direct to consumer — is where the Peloton for X market sits and is why firms like L Catterton seem to be exploring the opportunity to roll up the category, initially with large minority investments in growth stage ventures.
This walk before you run approach seems to mirror the process that led TPG to initially create Xponential Fitness as a standalone company.
While it seems that Peloton has hit escape velocity towards an IPO — and per Pitchbook, L Catterton hasn't participated in Peloton funding rounds since 2015 — other companies that L Catterton has backed (like Tonal and Hydrow) or that are currently even earlier in their life cycle stand to benefit from the type of shared infrastructure that could be enabled with a roll-up strategy while being left to innovate and provide an elevated customer experience in areas of core differentiation.
These companies are unique in different ways — novel training systems and content, passionate communities, and intelligence related to programming and recommendations are a few areas where these companies can differentiate — but all share similar "fixed" elements of the business that are required to compete in the market long term and which, if left to each company to execute on themselves, can be very capital intensive and require a different skillset. A few example areas:
Manufacturing

Global Distribution

Physical Retail

Real Estate

Marketing / Advertising
To date, only Peloton has gone down the path of owning all of these functional areas in-house although they've only just begun to expand internationally and are in the early days of creating their in-person, boutique training experience.
Building out a centralized platform to go after this opportunity would not come cheap — Peloton is not yet there on $1b in capital raised — and with their first-mover advantage, it is possible they've been able to grow more efficiently than those coming after them.

A firm like L Catterton certainly has the access to capital needed to go after this opportunity and thanks to the breadth of its current operations, possesses the expertise to call on to build out this platform. And with the scale, growth, and untapped potential of the global fitness market, I'd be surprised if others weren't considering an aggressive play here as well.
---
💌 If you are building a company in the world of fitness or consumer wellness, I would love to hear from you. Email me at brett@technexus.com
🤔You can also find me on Twitter @brettbivens where I have an ongoing megathread going with thoughts and interesting content related to the well-ness driven consumer.
---