Economic Oceans and an Alternative Trade Route
Diving deeper into key trends in work, well-being, cities, media, commerce, and industry
Hey from Paris! 👋
TL;DR on everything below is that I started up a Telegram channel this week as a way to share unfiltered thoughts on the things that I am reading, watching, and listening to…specifically related to the areas I research for Venture Desktop and invest in at TechNexus.
I've had about 65 people jump into the community so far and would love to have you check it out.
As I have done in the post below, I will be adding additional color to some of the more popular or interesting post from the Telegram channel here in this newsletter (along with continuing to share essays) on a weekly basis.
---
Economic Oceans
Last week I wrote about Economic Oceans, an in progress framework for analyzing the building blocks and catalysts of emergent demand by studying the ways that some of the largest pools of attention and value in the broader economy intersect and interact.
Those Economic Oceans — Work, Well-Being, Cities, Media, Commerce, and Industry — form the basis for a lot of the research I do for Venture Desktop and are, generally speaking, core areas of investment focus for us at TechNexus.
My interest in these six Economic Oceans specifically is two-fold:
We can observe that many of the most impactful companies built over the last decade — Square, Uber, Peloton, Zoom — have been built with an innate understanding of the underlying behaviors and catalysts (technological, economic, cultural) of multiple Economic Oceans.

The combination of economic, technological, scientific, cultural, and organizational advancement that takes place within and across these categories will be foundational in helping the global community rebound from Covid-19 and in creating growth and improved living standards in the decades to come.
As I've ramped up my research in these areas, I've also been looking for a better way to share the things I'm reading and thinking about as it relates to these Economic Oceans. I was recently inspired by Julian Lehr's essay on Newsletters and Alternative Trade Routes to test out Telegram and have loved the experiment so far.
Tucked between personal messages from friends, Telegram blogs are read in an even more intimate setting than email. In contrast to newsletters, readers can see the entire history at once (less ephemeral) and engage with the author and/or other readers via built-in community features.
As I noted at the top, you can join the Telegram channel here.
---
Diving Deeper
💼 Work — The high price we pay for working remotely

🌇 Cities — Paris mobility data

🧘‍♀️ Well-Being — Childhood obesity and elder lonliness

📱 Media — The economics of esports

💳 Commerce — Square's role in the recovery

🏭 Industry — Accelerating automation in manufacturing
The set of quick analyses below is longer than I expect it to be most weeks as this is at least a few week's worth of content. And I'm certainly sensitive to the fact that you probably don't need another link round-up email in your inbox every week so I would love to hear what you think about the format below and whether it is valuable.
Over the course of the last week, I shared 32 different links and had 65 new people join the Venture Desktop Telegram channel. The analysis below mainly comes from ideas and links shared in Telegram, with some additional context added.
💼 Work
A view I have held for a while is that two most significant enablers of health, happiness, & opportunity over the next decade will be the increased modal share of bikes and the rise of remote work. There are pretty significant and positive second order effects I expect we will see upon reaching inflection points in each.
Pre-Covid I felt we were nearing those important inflection points.
Things have accelerated massively on the distributed work front (obviously) and, per Gartner it seems many companies won't look back — 74% of CFOs expect to shift some workers remotely on a permanent basis. This inorganic acceleration has, however, come at a pretty significant price.
"One cost of not having to show up to work is that you also never get to unplug."
The Economist shared interesting data from Slack showing how nights and weekends are becoming a lot more common thanks to a combination of blended boundaries and now never-ending parental responsibilities.
Data shared by Box showed a similar effect.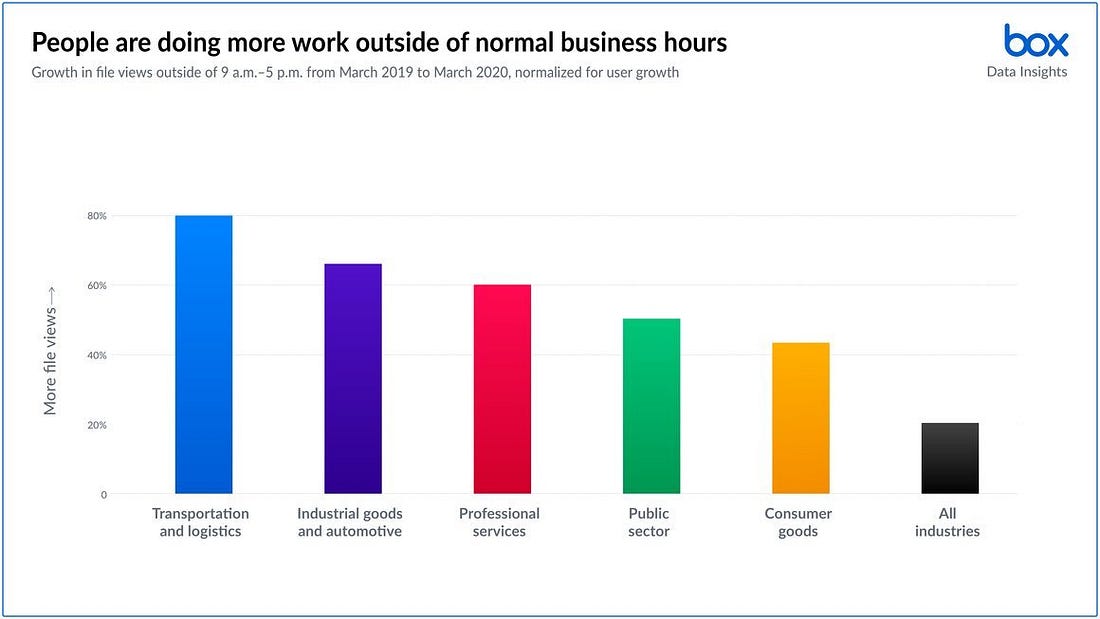 And this is just for those of us lucky enough to be able to do our jobs remotely. An interesting study from researchers at The University of Chicago found that only 37% of jobs can plausibly be performed at home.
On one hand, this gives us a sense of how big the opportunity is to create the infrastructure to support the tens of millions of people now or soon to be working from home. On the other (more troubling) hand, this data paints a distressing picture of how many people don't have "portable" professions and have little recourse until things get back to normal.
---
🌇 Cities
Both Apple and Google have released interesting mobility datasets that provide great insight into how we are moving around and what we are doing when we are out of the house.
I started digging into Apple's dataset after noticing a big uptick in morning commute traffic while out walking my dog the other day here in Paris. Turns out my observation squared with the data and I'm looking forward to continue tracking the numbers over time as rules around restrictions change.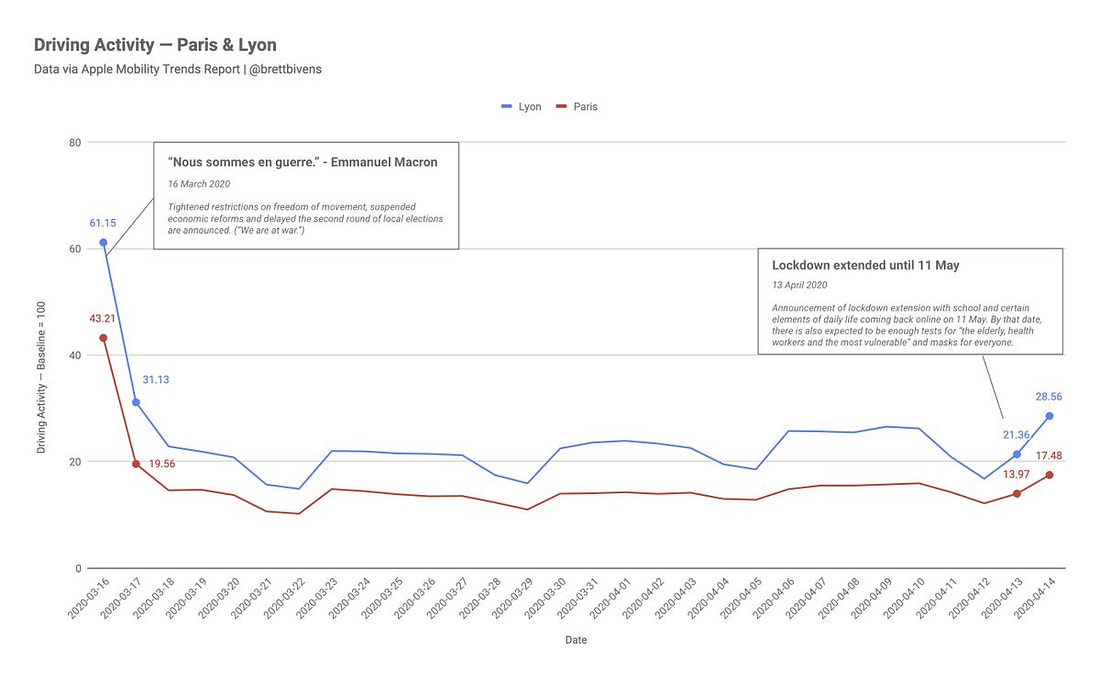 ---
🧘‍♀️ Well-Being
Two of the seemingly infinite large scale health problems exacerbated by the pandemic are childhood obesity and loneliness among the elder population.
From Fitt Insider:
According to Andrew Rundle, associate professor of epidemiology at Columbia University Mailman School of Public Health, children primarily experience unhealthy weight gain during the summer months. Typically, this excess weight is maintained during the school year and accrues summer to summer.
We are likely to see this play out to the extreme over the next few months. More processed food, more screen time, less outdoor play.
From the New York Times:
About a quarter of people over 65 living independently in their communities are considered socially isolated, and 43 percent of those over 60 report feeling lonely — and that was before public health officials instructed older people, and everyone else, to stay home.
If you have seen any companies or organizations doing interesting work to combat either of these two problems specifically, I would love to learn more about them.
---
📱 Media
Speaking of lots of screen time…
Matthew Ball essays are self-recommending and his new one is the most comprehensive deep dive esports economics I've seen — power dynamics and incentives between publishers, platforms (Twitch, Mixer, etc), leagues, and teams.
Also very helpful to understand the economics behind traditional sports leagues as a big focus of the piece is contrasting the two.
I also loved Dan Runcie's analysis of how Cash App has teamed up with the hip hop community to both grow faster and acquire the right customers.
"Mass-market products need branding. In consumer tech, hip-hop has been the backbone. TikTok had Lil' Nas X. Snapchat had DJ Khaled. YouTube had Soulja Boy. The list goes on. Hip-hop culture influence continues to grow, and more companies will find their own way to engage fans."
One of the defining characteristics of companies that excel in a world dominated by Economic Oceans is a deep cultural understanding of trends emerging across different categories. Square is one of the most impressive examples of this, showing an innate understanding of how to connect authentically with groups across the spectrum — from hip hop to crypto to small business owners.
Which brings us to…
---
💳 Commerce
I'm becoming more convinced every day that Square will come out of this mess owning even more of the under 30 consumer's "personal finance stack" and that they will go down as the company that most positively contributed to the recovery.
This quick Tweet sums up my optimism about Square (unsurprising disclosure, I'm a Square shareholder).
Good quick read on Square and "Innovation Stacks" from

@mfriedrichARK

. $SQ has partially mitigated its greatest weakness (SMB solvency) by owning consumer demand (

@CashApp

) it can push to those SMB customers (incentivizing w/ Boosts) to aid recovery.
research.ark-invest.com/ark-disrupt-is…
Brett Bivens @brettbivens
More convinced every day that Square will come out of this mess owning even more of the under 30 consumer's "personal finance stack". And can leverage same agility they show w/ consumers to be stronger supporters of SMB than anyone else... (Bought some $SQ today) https://t.co/6atXqTGHYU
---
🏭 Industry
The overriding narrative right now is that the onset and impact of Covid-19 has primarily been an accelerant of in-flight trends. Gaming, work, education, and health have received a bulk of the attention but another area where we are seeing this is in manufacturing and industrial work.
From The Economist:
But there has also been investment in automation and remote operation that has brought forward improvements not expected for some time to come. Anna Shedletsky, the boss of Instrumental, a firm which uses machine learning to help manufacturers improve their processes, says that in electronics manufacturing "We're going to do five years of innovating in the next 18 months."
More advanced security and safety features along with more remote monitoring and control will likely ramp up the demand for IoT solutions as industrial companies move past this first phase of shock and begin looking at how to function most effectively for the long term.
---
Thanks a lot for reading. As I mentioned, I would love your feedback. Feel free to respond to this email or some find me on Twitter.