Discover more from Venture Desktop by Brett Bivens
An ongoing exploration of the ideas, companies, and people shaping the New Industrial deployment age.
Over 3,000 subscribers
Spotify's New Customer
After Joe Rogan, why Sonos might be Spotify's next big buy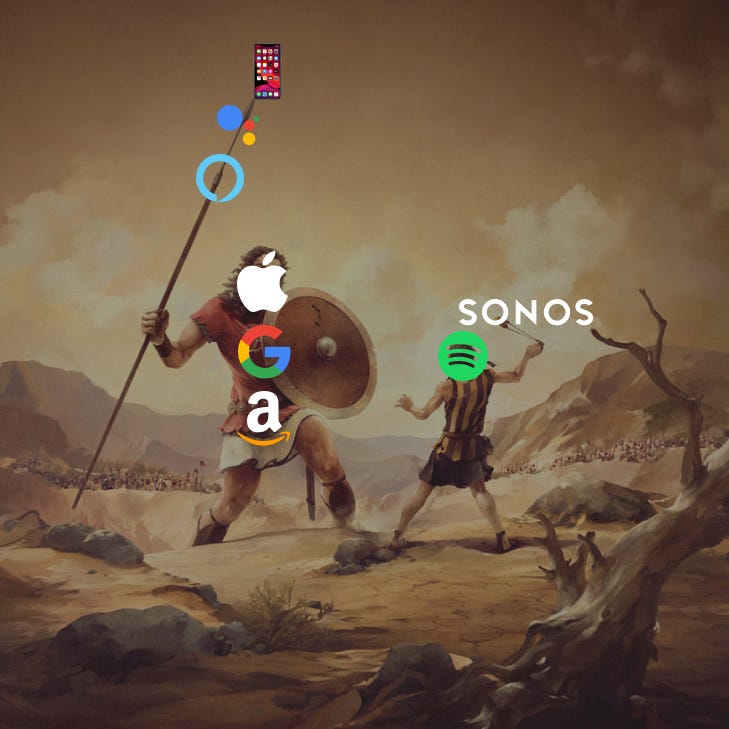 ---
I co-wrote this essay with Sid Jha, who just celebrated the one year anniversary of his great newsletter, Sunday Snapshots. The analysis below builds off of great work he did on Spotify earlier this year and a lot of what I have written about the company in recent months. Below, we provide a deep dive into the company's big bets in podcasting and consider what that means for their strategy going forward.
We would love to discuss this post with you here on Twitter:
---
Music and technology have long been deeply intertwined and with the introduction of the iPod almost 20 years ago, this relationship leapt to new heights.
Over the last decade, tech giants like Apple, Google, and Amazon, along with Chinese companies like Tencent and ByteDance joined the already powerful music labels to develop a stronghold on the world of audio. 
Within this narrative, there are a few bastions of independent power. Spotify and Sonos take each side of the software-hardware equation and excel in their respective product offerings. But competing with these giants is an elevated game, and both Spotify and Sonos have serious handicaps that make them dependent on the permission of others to innovate. 
This essay is an exploration of the game, the handicaps, and why Spotify acquiring Sonos would be a direct extension of the same strategy they have employed to reach the verge of dominance in podcasting. We develop a blueprint for this David to beat the Goliaths.
---
Weaknesses
Spotify's history is akin to a heightened version of Super Mario Bros. that features a boss-level foe waiting at every turn. Having made it through a surprising portion of the game, the company now faces visible asymptotes to its growth and profit prospects. What are these asymptotes?
Non-preferential treatment on hardware platforms: If you ask Siri to "Play Drake's latest album", it tries to play it on Apple Music. While you can force Siri to use Spotify, defaults matter. And defaults on 1.4 billion devices matter a lot.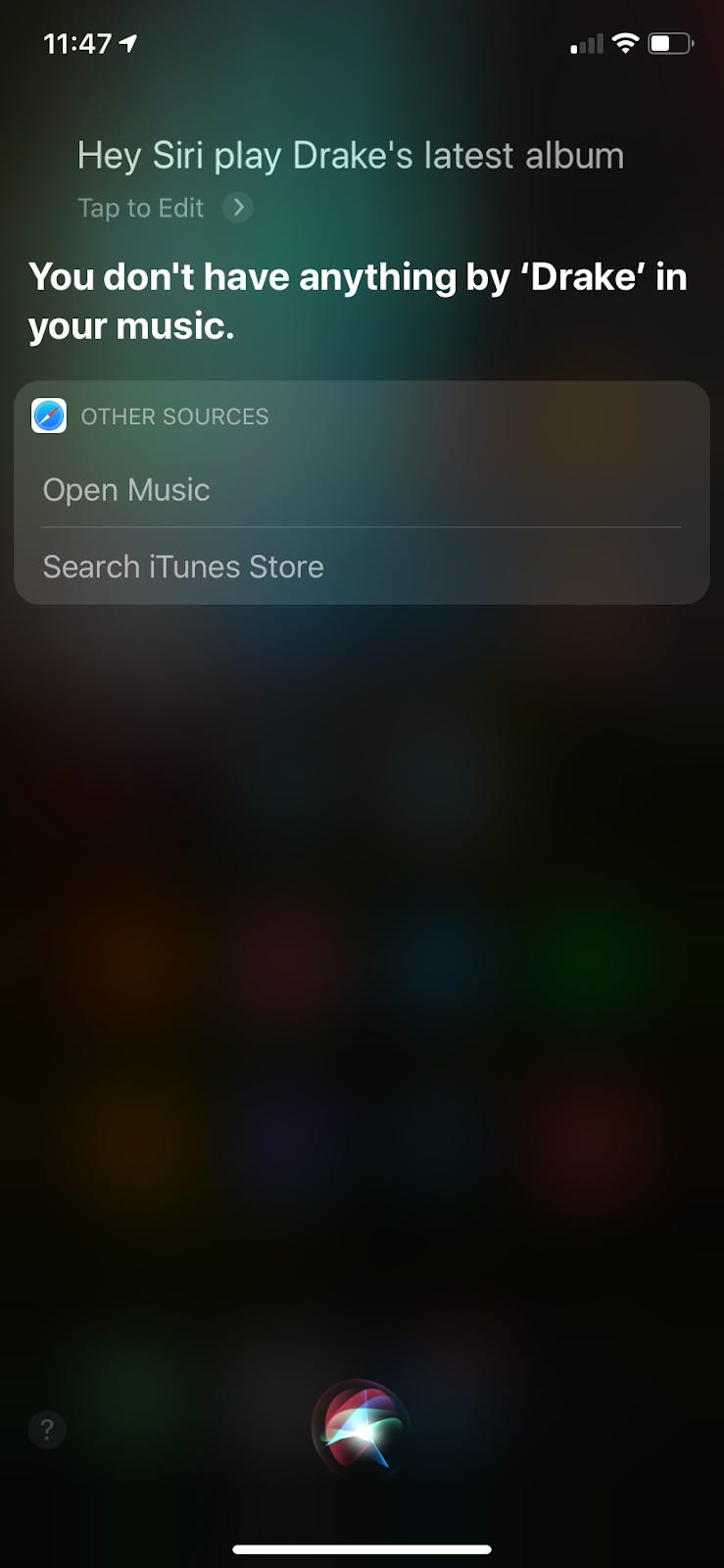 Like all asymptotes, these cap the value of the company. And while they have made moves to solve the first asymptote, CEO Daniel Ek's response to the second one has been more akin to an activist than a businessman. While activism can be an effective vector of attack, it's usually better to take matters into your own hands.
And if you can join those hands with someone who has strengths that complement your weaknesses, well, that's a strong bond. Spotify should build this bond by joining hands with Sonos.
Sonos has had their own set of problems over the last few years. Voice assistants have emerged as a core utility of speakers. There are three big players in this space — Google, Amazon, and Apple. While Apple's Siri has largely remained behind its differentiated-hardware gates, Google and Amazon have encouraged the proliferation and adoption of their voice assistants beyond their own products. Ultimately, they are in different businesses – ads for Google and products for Amazon. So, it makes sense for them to use their voice assistants as lead generation for their core businesses. From Sonos' 2019 Annual Report:
Many of these partners may subsidize these prices and seek to monetize their customers through the sale of additional services rather than the speakers themselves. Even if we are able to efficiently develop and offer innovative products at competitive selling prices, our operating results and financial condition may be adversely impacted if we are unable to effectively anticipate and counter the ongoing price erosion that frequently affects consumer products or if the average selling prices of our products decrease faster than we are able to reduce our manufacturing costs.
Sonos has no secondary business of any substantial size. They make very good speakers. That's it. And while making something of a very high quality used to be sufficient for sustained success, in the age of the tech 800-pound gorillas — no, internet 20-ton King Kongs – it's not good enough anymore.
So, despite steady revenue growth, every quarterly shareholder letter is peppered with the looming concerns of increased litigation with the tech giants. One such excerpt from the 2020 Q1 shareholder letter:
Google is an important partner with whom we have collaborated successfully for years, including bringing Google Assistant to the Sonos platform last year. However, Google's audio products have been extensively infringing on our patents. Despite our repeated and extensive efforts over the last few years, Google has not shown any willingness to work with us on a mutually beneficial solution. We were left with no choice but to litigate in the interest of protecting our inventions, our customers, and the spirit of innovation that's defined Sonos from the beginning.
Sonos also finds itself stuck with a distribution model that is highly dependent on physical retail while eCommerce explodes in the wake of Covid-19. From their 2020 Q2 shareholder letter:
In March, our total revenue declined 23% year-over-year as the typical replenishment order cycle in the majority of our end markets was disrupted due to the softer global demand environment and broad-based physical retail closures stemming from the COVID-19 pandemic.
Spotify's royalties and non-preferential treatment. Sonos' voice assistant dependency (which they have tried to solve via M&A) and archaic distribution channel. There are plenty of problems to be solved in Stockholm and Santa Barbara.
Complementary Strengths
Despite their problems, Spotify and Sonos have managed to counteract the forces of the tech giants to varying degrees of success. 
Going back to 2016, Spotify was able to flex its market power by single-handedly making Katy Perry's album a failure. It reported 286 million monthly active users in Q1 of 2020, did over $7b in revenue in 2019, and believes it is growing faster and retaining and engaging users more effectively than competitors like Apple Music. 
It has cutting edge marketing chops as demonstrated by its Instagram-enveloping Year in Review offering – which was eventually mimicked poorly by Apple Music's "Replay". It also stands out on its superior discovery and playlist power. A feature on RapCaviar can take undiscovered talent and put it at the forefront of the rap game— and apart from TikTok's king-maker status, it is unmatched in its power in the streaming world.
Sonos is loved by suburban families looking to build a comprehensive home audio system. They are consistently able to up-sell their customers — 37% of the products registered in 2019 were "from customers who were adding an additional Sonos product to their home." They have also shown an increased willingness to develop partnerships and have expanded their deep expertise in audio through higher-end products like the Arc and Five.
Spotify has emerging market power both in music and increasingly in podcasting, distribution chops, and discovery features. Yet it struggles because of its treatment as a second-class citizen on iOS and Android platforms. Sonos has superior hardware, customers that love its products, and deep audio competency. Yet, one of its core utilities is held hostage by Google and Amazon and offered at onerous terms.   
So, what if these two Davids didn't try to beat Goliaths by themselves? What if they joined forces and took on the King Kongs of tech together?
Building on its momentum in podcasting and the carte blanche for innovation it has received in the wake of Covid-19, the timing has never been better for Spotify to move aggressively into hardware and further stave off commoditization from its fiercest competitors.  
Low Hanging Fruit
There are a few obvious synergies that would be created if Spotify were to acquire Sonos. For one, featured placement in front of Spotify's 286 million monthly active users is the stuff DTC dreams are made of.
A deeper relationship would also help the combined company engage consumers across the purchasing lifecycle. Sonos has employed a land and expand strategy to great success — 62% of households have more than one Sonos speaker — but their customer demographic tends to skew older. Spotify's user base, on the other hand, skews younger both compared to Sonos and to competitors like Apple Music, Amazon, or Google. It is also the most beloved product among competitors.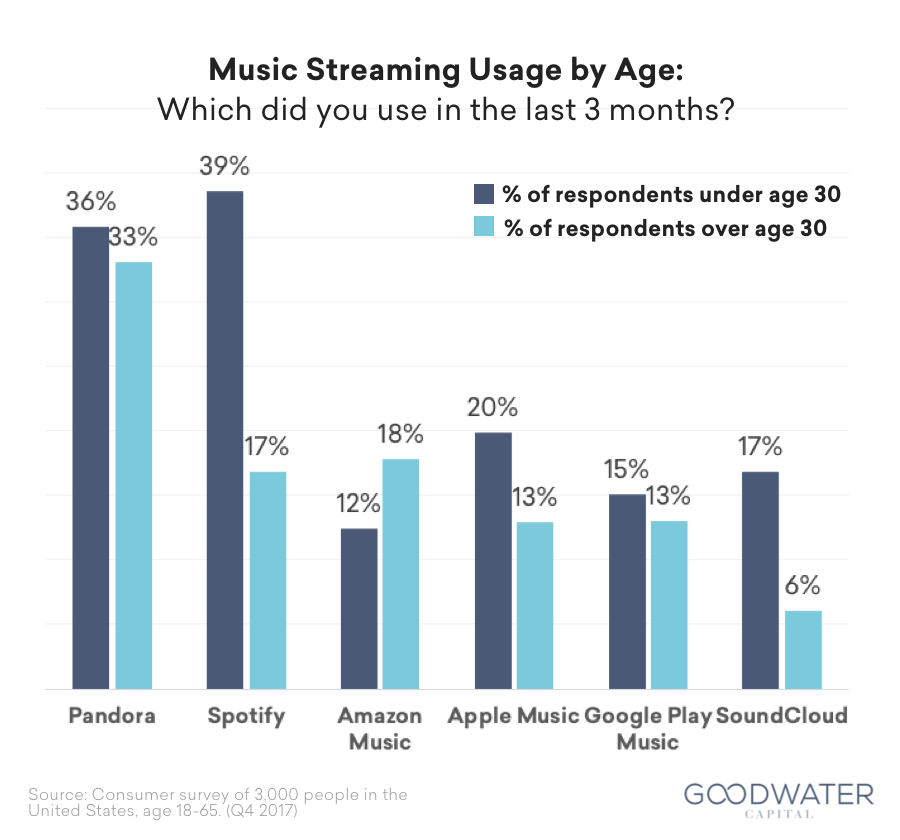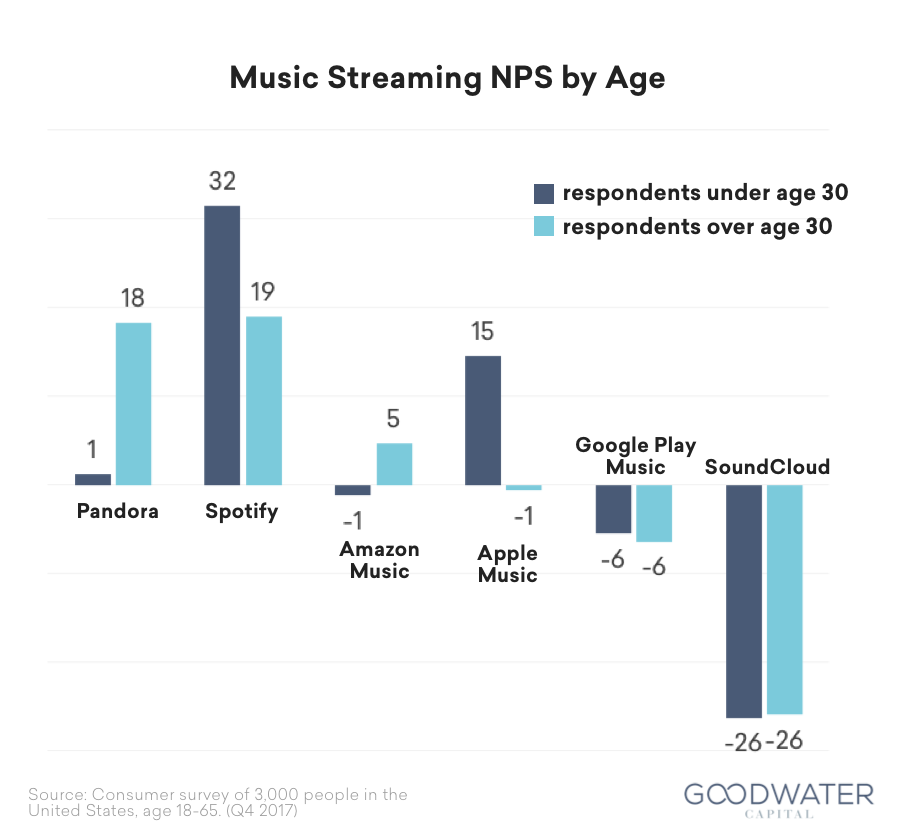 Spotify's advantaged access to younger consumers, paired with Sonos' history of long term brand loyalty creates a compelling opportunity to sell products, like the Sonos Move, that are more aligned with the lifestyles and needs of those consumers.
There are also opportunities for partnership as Spotify continues its push to move consumers from linear consumption to on demand. From Spotify's Q1 2020 earnings call:
When I look ahead both short and long term, I'm always thinking about what's Spotify's role within the larger ecosystem. And while most focus is on competition between streaming services, we continue to be focused on the billions of users that are listening to linear radio. The 20-year trend is that everything linear dies and on-demand wins. This is a trend that we suspect will be accelerated by the COVID pandemic. Time at home has moved people out of their cars, requiring them to shift their listening behaviors, and that's when they discover streaming. And Spotify is the best positioned to capitalize on this. And because we offer personalized and on-demand experience, they end up staying.
Today, Sonos says radio playback accounts for "nearly half" of all the time that customers spend listening to its products, and a deeper relationship could provide a testing ground for Spotify to experiment with additional ways to further accelerate the shift from radio to streaming.
These opportunities are interesting and have the potential to create billions of dollars of incremental revenue and positively impact margins by shifting the distribution mix and leveraging hardware to improve retention (ala Peloton) to create higher LTV across both subscription and hardware offerings.
But incremental revenue opportunities, while necessary, are likely not sufficient to justify risking the momentum Spotify has on its current path in a market where they have carved out their niche through intense focus against competitors who seek to win on the basis of scale.
For this acquisition to make sense for Spotify, it needs to bring larger opportunities — ones that create platform power for the company — into play.
Spotify's Ladder
We have written in the past about Spotify's "ladder" — how it moves from music streaming service with poor economics to the defining company in the emerging age of ambient media.
Discovery

Vertical Depth

Expanded Formats

Social
Spotify already differentiates from competitors on music discovery and, through its acquisitions of Gimlet and The Ringer, has made an initial push to establish ownership of different audio content verticals.
The company is also — finally, from the perspective of many — beginning to push the envelope on format and social experiences. Spotify has always been upstream data-wise of emerging demand for new offerings like audio books and wellness content, two areas they have recently started prioritizing. 
With Joe Rogan on board, Spotify now has a focused value proposition for both a video product (something they have failed with in the past) and additional social features to engage and manage Rogan's massive community.
Success with these features creates an engagement flywheel that strengthens Spotify's value to creators, advertisers, and users. Hardware, specifically a tie-up with Sonos, could help push this strategy even further.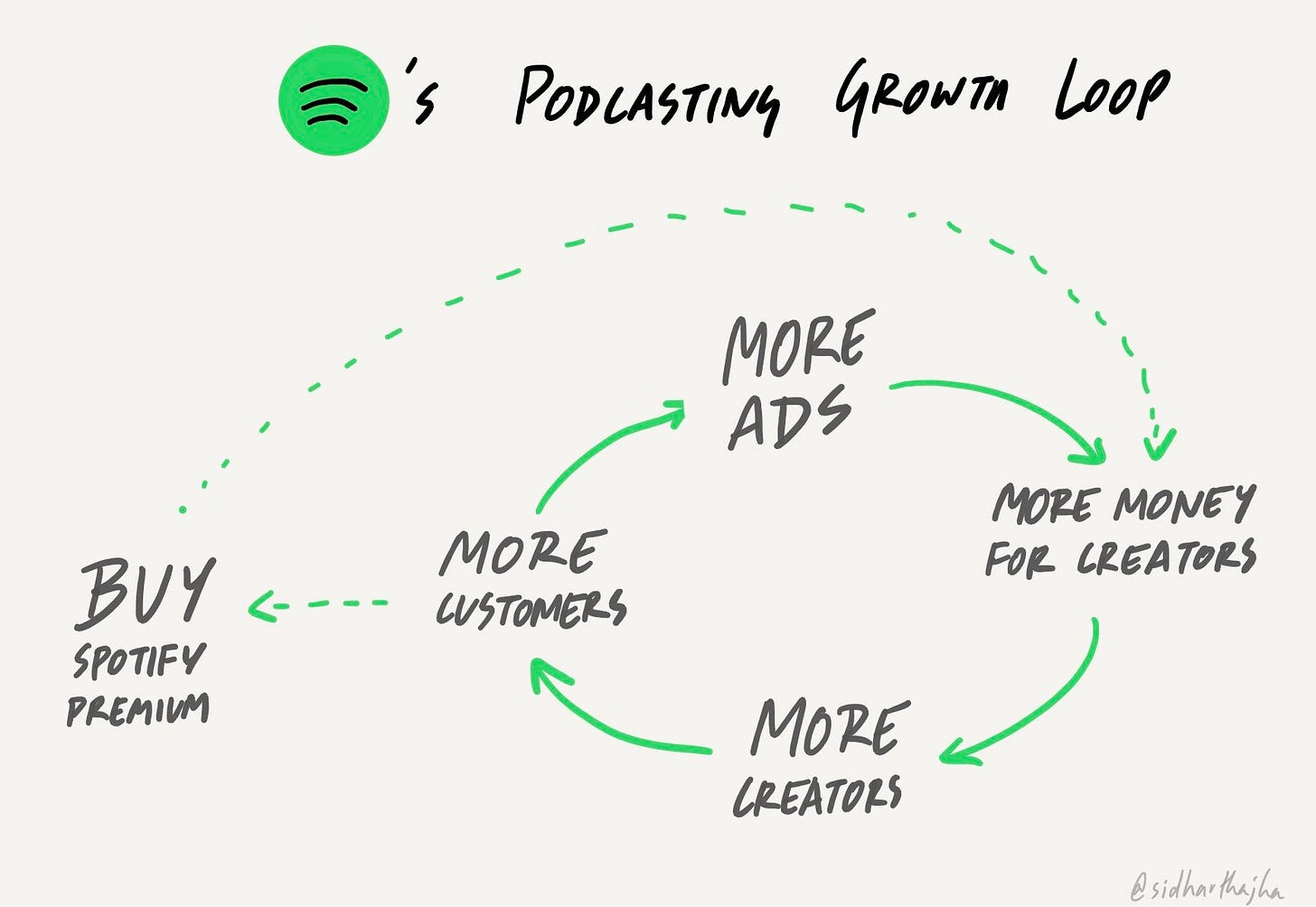 Hardware and Ambient Media
Ambient media defines a future of pervasive, contextual access to both consume and create content, generally through an "eyes up" experience. As a result, ambient media tends towards audio. This future, then, hinges on the continued development of voice-enabled interfaces as well as interoperability across both software and hardware.
Without owning capabilities in those areas, Spotify may never escape the permission-based innovation model they have been forced to operate under (thanks to the influence of the record labels) and risks missing out on many of the largest opportunities in interactive audio. 
This is where Sonos comes in. 
If recent history is any guide, Spotify cares a lot about being its own first and best customer. Shows from Gimlet and The Ringer serve as an owned testing ground for Spotify's Streaming Ad Insertion while the Joe Rogan Experience provides a similar path for video and social.
Successfully executing on this approach pulls creator, consumer, and advertiser attention away from competitors and serves to empower Spotify vis-à-vis platforms like iOS and Android. 
Owning Sonos would give Spotify the opportunity to take this same approach to expand capabilities and take the lead in fusing hardware with intersecting opportunities in content consumption, creation, and communication.  
Whether through voice-driven interactive content (games, education, wellness), fully integrated hardware experiences spanning in and out of home, or new business and go to market models, the continued acquisition of owned and exclusive content coupled with a hardware platform like Sonos gives Spotify the ability to be its own first and best customer before scaling experiences to other hardware platforms.
The same boilerplate Spotify caveats apply here. The record labels still possess real leverage and a competitive slide that features the world's largest companies (as well as perhaps the fastest growing company ever) leaves no doubt about what they are up against. 
Spotify's growth to date has been defined by "patient innovation" — incrementally edging out whatever ground they could get while being squeezed on all sides. This stance has changed and the company's recent moves have been nothing if not bold. 
But hitting escape velocity can't be done on content alone. Spotify won't have true platform power until it has material ownership of its own distribution. Hardware, specifically an acquisition of Sonos, gives it that distribution and gives this David a leg up in scaling to the next rung of its ladder against the walls guarded by the tech Goliaths.
---
Thanks for reading. We would love to discuss this essay with you over on Twitter. And once more, definitely check out Sid's weekly newsletter, Sunday Snapshots. He sends it out every Sunday and it is backed with unique insights and ideas every week.